First Speakers of Codemotion Rome 2019 announced!
On January 7 we've closed the Call for Papers for Codemotion Rome and now we're glad to announce that we've received over 800 submissions coming from all around the world!
And now? Currently, our Program Committee is evaluating the highest quality content that will be offered during our two-day Conference, but we have already the first six Speakers for Codemotion Rome 2019! Have a look below!
Meet the First Speakers

We have been working really hard to choose the best possible speakers and keynoters focusing on the hottest tech topics, so there you go: on March, 22-23 you will meet among the others…
VENKAT SUBRAMANIAM (Agile Developer, INC.)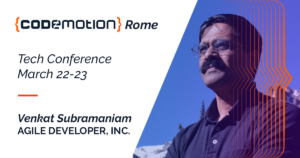 Venkat is an award-winning author, founder of Agile Developer, Inc., creator of agilelearner.com, and an instructional professor at the University of Houston. Read his full bio here.
ALESSANDRO (Cirpo) CINELLI (DAZN)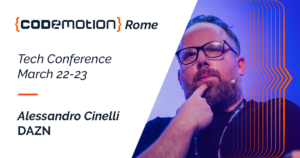 Alessandro (a.k.a. cirpo) is currently working in London as Engineering Manager at DAZN. He loves playing with programming languages and give back to the community. He has been a board member of the Italian PHP, Javascript User Group, and WEBdeBS. More details here.
Azzurra is a Managerial Engineer, Ph.D. in Computer Engineering and a tireless researcher especially in the field of AI, Machine Learning and Recommender System. More details here.
Danny, Sr UX Designer, has over ten years of experience as a UX Designer and developer of design systems and cross-platform design tools. Get to know him better here.
Omosola is a product/engineering advisor and senior software engineer focused on Front-end, Backend, Research, UX Design, and Tech Lead. Here you will find her bio.
Fabio is both a community leader and a frequent contributor in many Italian front-end usergroups (Angular, React, Javascript). He's also a Google Developer Expert in Angular, as written here.
Did you enjoy this Sneak Peek? 
Remember that this is just the beginning…  More exciting news will soon arrive! Now you'd better secure your seat now to ensure you'll catch these superstars speaking in Rome, this March.
We're looking forward to seeing you there!
Back to news list